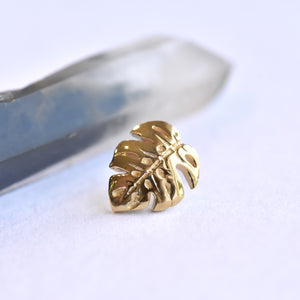 Duchess Monstera End - Pressure Fit End Only
18g Pressure Fit Goldmaiden Ginko end available in 14kt Rose, White, and Yellow gold by Regalia Body Jewelry. (Pictured is Yellow Gold)
This jeweller is directional. For example, if you select the "left" ear option, that means the top of the monstera leaf would point up on your left ear. It can be worn either way, depending on your preference. 

This jewelry is compatible with 18g-14g universal pressure fit posts. 

Buy those here.

Solid gold jewelry is dental quality and only alloyed with biocompatible materials. 

Your jewelry will be sent in sealed bags. If the seal is broken, we cannot return the jewelry. Please contact us within 14 days of receiving the package if you wish to return the piece. Returns will not be accepted after 14 days.
---
We Also Recommend