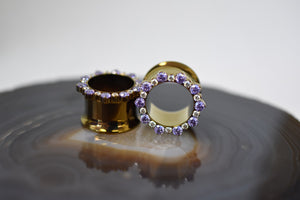 I.S. 5/8" Alternating Size Gem Eyelets - Pair
5/8" Double Flare Titanium Champagne/Amethyst Alternating Size Gem Eyelets from Industrial Strength.
Anodized Bronze.
Sold as a pair.
Stones are synthetic.
Suitable for stretched earlobes. 
Your jewelry will be sent in sealed bags. If the seal is broken, we cannot return the jewelry. Please contact us within 14 days of receiving the package if you wish to return the piece. Returns will not be accepted after 14 days.
If you are shipping to Canada:
Will be sent with Tracking number and will require a signature when dropped off.
Shipping to the US:
Will be sent with a Tracking number, and USPS will not do not safe drops. You must be present when package is dropped off.
---
We Also Recommend